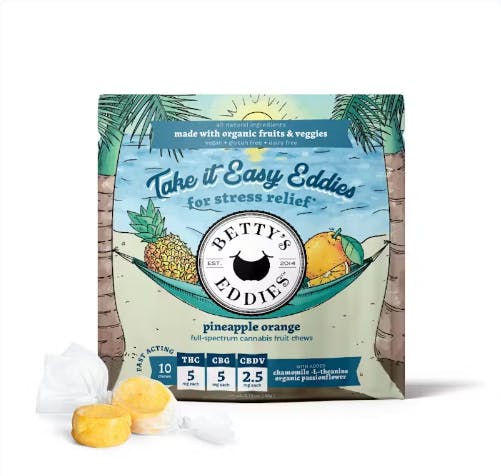 Brand: Nature's Heritage | Betty's Eddies
Take It Easy Eddies Pineapple Orange | Fruit Chews | 50mg THC: 50mg CBG : 25mg CBDV
Enjoy a piece of peace with our Take it Easy Eddies. These pineapple orange chews are infused with a natural blend of THC, CBDV, and CBG, plus passionflower, chamomile, and L-theanine, which may help you feel mindful and meditative. You're on island time now! Cannabis infused edibles, evenly dosed are commonly sold in multi-packs, which makes controlling your intake easy and reliable. Because edibles are digested and absorbed by your stomach and liver, the activation is often longer than other consumption methods, taking on average 45 minutes, and sometimes up to 2 hours. It is important to start low and slow when consuming edibles so you don't over do it. Take extra caution to ensure edibles are out of the reach of children.
Effects
Calm
Happy
Relaxed
Energetic
View Product Testing Data
CBG (Cannabigerol)
52.2
CBG (Cannabigerol)-52.2
Cannabinoids are synthesized by Cannabigerolic Acid. CBG is the decarboxylated form of this acid that appears at low levels in most cannabis plants. Because its properties are beneficial to multiple parts of the endocannabinoid system, CBG has a wide range of therapeutic uses. It is non-psychotropic and can provide analgesic and antidepressant qualities.