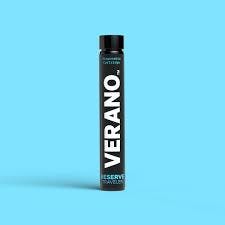 Brand: Verano
Stix Reserve - Pancake Stomper | Pre Roll | 1g
Indica
THC:25.04%
CBD:0.05%
Verano Stix are the most convenient and affordable way to explore pre-rolls with exclusive strains, exotic cultivars, and extensively phenohunted flower. Each 1g cone is packed meticulously with our top-of-the-line cultivars.
Effects
Relaxed
Sleepy
Happy
View Product Testing Data
CBD (Cannabidiol)
0.05%
CBD (Cannabidiol)-0.05%
CBD is the second most prevalent cannabinoid and is primarily produced by hemp plants and at lower amounts in cannabis. It works as a phytocannabinoid, or binding agent, that adheres to an individual's endocannabinoid system. Cannabidiol has soared in popularity due to its lack of psychoactive effects. Most users seek CBD for its medicinal properties since it was the first cannabinoid to be approved by the FDA. Its healing properties include an ability to help you relax, reduce irritability and ease restlessness.
"TAC" - Total Active Cannabinoids
26.4%
"TAC" - Total Active Cannabinoids-26.4%
Total active cannabinoids represent the total amount of active cannabinoids at the time of lab testing. This total of active cannabinoids considers all of the active compounds that the product holds.
THCA (Δ9-tetrahydrocannabinolic acid)
23.5%
THCA (Δ9-tetrahydrocannabinolic acid)-23.5%
THCA is a cannabis compound with a laundry list of potential mental and physical health benefits. THCA is the non-psychoactive precursor to THC, the most famous cannabinoid of all. While THC is responsible for the psychoactive "high" that so many of us enjoy, THCA has shown great promise as an anti-inflammatory, neuroprotectant and anti-emetic for appetite loss and treatment of nausea. THCA is found in its highest levels in living or freshly harvested cannabis samples. For this reason some users choose to juice fresh cannabis leaves and flowers to get as much THCA as possible.
About the brand :
Verano
Only the purest, most exceptional products are allowed to bear the Verano name. Depending on your needs and preferences, the Verano product line offers plenty of options. Choose from Swift Lifts (a pre-rolled, mini pack), Sunrock Shatter (a very popular concentrate), Purple Punch and Gelato (dessert strains), or a variety of vape distillate cartridges. There's at least one to meet your medicinal and adult-use consumption needs.