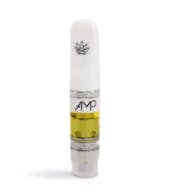 Brand: AMP
Skywalker OG 1:1 THC:CBD | Vape Cart | .5g
Mazar x Blueberry x OG Kush An Indica-dominant hybrid cross of Mazar, Blueberry, and OG Kush, this cultivar comes from a clone originally bred by Darkheart Nursery with genetics from Dutch Passion Seeds out of Amsterdam. Skywalker OG strain has notes of sweet, citrus hops, and a spicy peppery finish. Skywalker OG is excellent at reducing chronic pain from inflammation, surgery, or just plain overworked muscles and joints. The strain's indica-properties also make it an excellent stress reliever. *THIS PRODUCT HAS BEEN TESTED FOR CONTAMINANTS, INCLUDING VITAMIN E ACETATE, WITH NO ADVERSE FINDINGS. *WARNING: VAPORIZER PRODUCTS MAY CONTAIN HARMFUL INGREDIENTS HARMFUL TO HEALTH WHEN INHALED. *Test results and potency may vary by batch, product consistency, appearance and effects.Consumers shall have access to the test results of Marijuana Vaporizer Devices including copies of any Certificates of Analysis provided by the device's manufacturer. Manufacturer: Shenzhen Poce Tech. Extraction Method: CO2 & Ethanol. Marijuana Type: Concentrate. Post-Processing: Distillation. Battery: 5/10 Thread. Housing: Glass|Mouth Piece: Ceramic} Sealing Ring: Silicone. Heating Element: Ceramic/Kanthal Wiring. Consumption Method: Inhalation. Average Onset: 1–5 Minutes. Average Duration: 1–4 Hours. This product was produced using terpenes derived from cannabis products.
Effects
Relaxed
Sleepy
Happy
View Product Testing Data
CBD (Cannabidiol)
39.9%
CBD (Cannabidiol)-39.9%
CBD is the second most prevalent cannabinoid and is primarily produced by hemp plants and at lower amounts in cannabis. It works as a phytocannabinoid, or binding agent, that adheres to an individual's endocannabinoid system. Cannabidiol has soared in popularity due to its lack of psychoactive effects. Most users seek CBD for its medicinal properties since it was the first cannabinoid to be approved by the FDA. Its healing properties include an ability to help you relax, reduce irritability and ease restlessness.
CBG (Cannabigerol)
2.81%
CBG (Cannabigerol)-2.81%
Cannabinoids are synthesized by Cannabigerolic Acid. CBG is the decarboxylated form of this acid that appears at low levels in most cannabis plants. Because its properties are beneficial to multiple parts of the endocannabinoid system, CBG has a wide range of therapeutic uses. It is non-psychotropic and can provide analgesic and antidepressant qualities.
CBN (Cannabinol)
2.52%
CBN (Cannabinol)-2.52%
CBN is a cannabinoid that is created during the breakdown of THC by UV light and exposure to oxygen. This breakdown usually begins during the drying and curing process. CBN is most commonly found in older or improperly stored cannabis samples. This compound is mildly psychoactive and is best known for its sedative effects. Strains and products with high concentrations of CBN can be a great choice for users looking to utilize cannabis products to ease restlessness and promote healthy sleep.
THCA (Δ9-tetrahydrocannabinolic acid)
1.11%
THCA (Δ9-tetrahydrocannabinolic acid)-1.11%
THCA is a cannabis compound with a laundry list of potential mental and physical health benefits. THCA is the non-psychoactive precursor to THC, the most famous cannabinoid of all. While THC is responsible for the psychoactive "high" that so many of us enjoy, THCA has shown great promise as an anti-inflammatory, neuroprotectant and anti-emetic for appetite loss and treatment of nausea. THCA is found in its highest levels in living or freshly harvested cannabis samples. For this reason some users choose to juice fresh cannabis leaves and flowers to get as much THCA as possible.