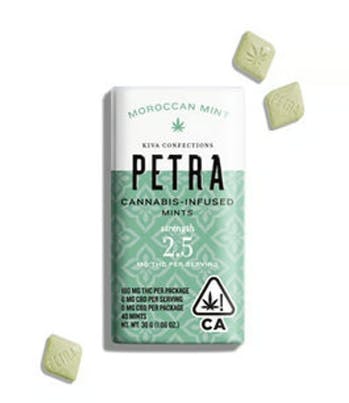 Brand: Kiva | Petra
Moroccan Mint | Mints | 100mg (2.5mg each)
A surprising combination of green tea matcha and peppermint, Moroccan Mint Petra soothes with a hint of mint and light notes of Tahitian vanilla. At 2.5 MG THC per mint, Petra gives you the ability to titrate your dose in precise increments. This accuracy allows you to integrate Petra more easily into your active lifestyle. Ingredients: Xylitol, Dextrin, Matcha Tea, Mint Flavor WONF, Rebaudioside A (Stevia), Magnesium Stearate, Cannabis Extract, Silicon Dioxide, Menthol. Made in a facility that processes milk, nuts, soy and gluten. Gluten Free Other Cannabinoids: CBG, CBC 40 pieces, 2.5mg each Onset: 30-120 minutes Duration: 1-6 hours or longer
Effects
Calm
Happy
Relaxed
Energetic
View Product Testing Data
CBG (Cannabigerol)
0.12
CBG (Cannabigerol)-0.12
Cannabinoids are synthesized by Cannabigerolic Acid. CBG is the decarboxylated form of this acid that appears at low levels in most cannabis plants. Because its properties are beneficial to multiple parts of the endocannabinoid system, CBG has a wide range of therapeutic uses. It is non-psychotropic and can provide analgesic and antidepressant qualities.
CBN (Cannabinol)
0.03
CBN (Cannabinol)-0.03
CBN is a cannabinoid that is created during the breakdown of THC by UV light and exposure to oxygen. This breakdown usually begins during the drying and curing process. CBN is most commonly found in older or improperly stored cannabis samples. This compound is mildly psychoactive and is best known for its sedative effects. Strains and products with high concentrations of CBN can be a great choice for users looking to utilize cannabis products to ease restlessness and promote healthy sleep.