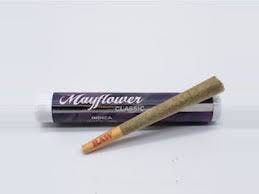 Brand: Mayflower
Mandarin Cookies | Pre Roll | 1g
Lineage: Forum Cut Cookies x Mandarin Sunset The flavor of Original Mandarin Cookies is often one of the largest selling points as it produces an incredibly bright and vibrant flavor. In addition to the flavor, the high that can be experienced from this strain is incredibly uplifting and energetic. You can expect to have a sense of euphoric energy that will fill your headspace making you feel relaxed, yet focused. The super bright flavors and loud effects of Original Mandarin Cookies are rare strain that's hard to find.
Effects
Calm
Happy
Relaxed
Energetic
View Product Testing Data
THCA (Δ9-tetrahydrocannabinolic acid)
23.26%
THCA (Δ9-tetrahydrocannabinolic acid)-23.26%
THCA is a cannabis compound with a laundry list of potential mental and physical health benefits. THCA is the non-psychoactive precursor to THC, the most famous cannabinoid of all. While THC is responsible for the psychoactive "high" that so many of us enjoy, THCA has shown great promise as an anti-inflammatory, neuroprotectant and anti-emetic for appetite loss and treatment of nausea. THCA is found in its highest levels in living or freshly harvested cannabis samples. For this reason some users choose to juice fresh cannabis leaves and flowers to get as much THCA as possible.
About the brand :
Mayflower
The Mayflower family of brands are cultivated in our indoor hydroponic facilities in Holliston and Fall River. Our dedicated and talented staff tends to the flower from "Seed to Sale" without the use of harsh chemicals, paying close attention at each phase of the cultivation process. Understanding that all cannabis is not created equal, Mayflower products are available in a range of brands to suit every patient and customer: Mayflower Premier brand is Mayflower's highest potency flower, delivering maximum quality and satisfaction Mayflower Classic brand offers top quality flower with prominent terpene content and moderate potency. Mayflower brand has the strains that you love at the best value.