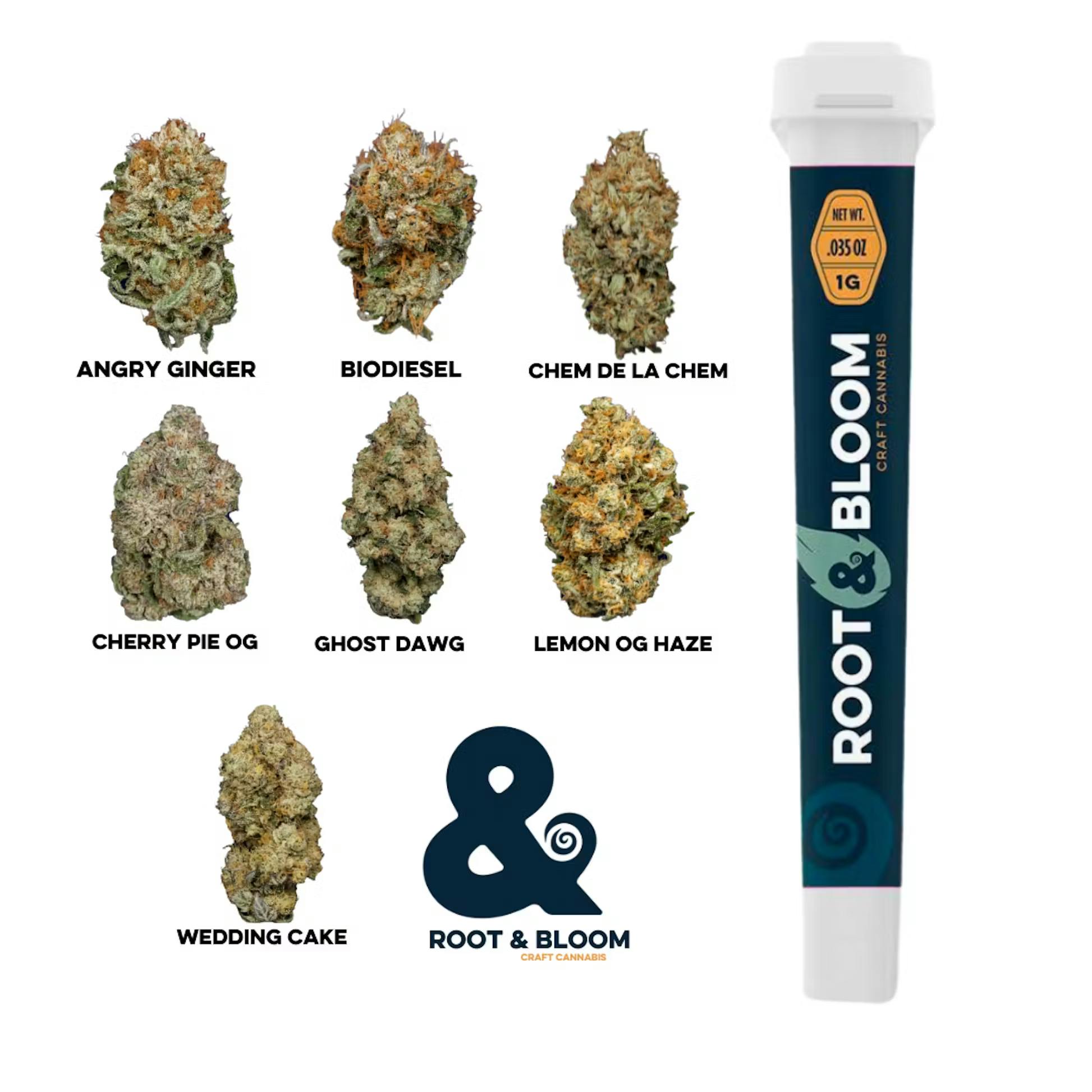 Brand: Root & Bloom
Lemon Diesel | Pre Roll | 1g
Hybrid
THC:25.85%
CBD:0.13%
Lemon Diesel, also known as "Lemon Sour Diesel," is an indica dominant hybrid strain (70% indica/30% sativa) create through crossing the iconic California Sour X Lost Coast OG strains. Best known for its super heavy high and delicious flavor, Lemon Diesel is a great choice for any classic indica lover. The high starts almost as soon as you exhale, filling your mind with a lifted sense of euphoria that's accompanied by a punch of creativity and focus. You'll be happy and carefree, ready to focus on anything on your to-do list with ease and vision. A relaxing physical sense accompanies this heady boost, helping you to settle down into a state of calm without any aches or pains. Thanks to these effects and its high 18-20% average THC level, Lemon Diesel is often chosen to treat those suffering from conditions such as chronic stress or anxiety, depression, ADD or ADHD and chronic fatigue. This bud has a sweet and sour fruity citrus flavor with a peppery lemon diesel exhale. The aroma is very similar, with a lemony diesel overtone that's accented by a punch of spicy black pepper as the nugs are burned away. Lemon Diesel buds have tapered spade-shaped minty green nugs with lots of thin orange hairs and a coating of frosty, tiny golden-amber crystal trichomes
Effects
Calm
Happy
Relaxed
Energetic
View Product Testing Data
CBD (Cannabidiol)
0.13%
CBD (Cannabidiol)-0.13%
CBD is the second most prevalent cannabinoid and is primarily produced by hemp plants and at lower amounts in cannabis. It works as a phytocannabinoid, or binding agent, that adheres to an individual's endocannabinoid system. Cannabidiol has soared in popularity due to its lack of psychoactive effects. Most users seek CBD for its medicinal properties since it was the first cannabinoid to be approved by the FDA. Its healing properties include an ability to help you relax, reduce irritability and ease restlessness.
CBDA (Cannabidiolic acid)
0.13%
CBDA (Cannabidiolic acid)-0.13%
CBDA is a derivative of CBGA and the precursor to the well known cannabinoid CBD. Over the last decade scientists have found that CBDA has a very similar chemical structure to that of nonsteroidal anti-inflammatory drugs (NSAIDs) and thus has shown promise in treating pain due to inflammation by inhibiting COX-2 receptors in the brain that register pain. CBDA has also been shown to help regulate the over release of serotonin that causes severe nausea and vomiting in patients receiving chemotherapy, and while more thorough research is needed these results are very promising.
CBG (Cannabigerol)
0.13%
CBG (Cannabigerol)-0.13%
Cannabinoids are synthesized by Cannabigerolic Acid. CBG is the decarboxylated form of this acid that appears at low levels in most cannabis plants. Because its properties are beneficial to multiple parts of the endocannabinoid system, CBG has a wide range of therapeutic uses. It is non-psychotropic and can provide analgesic and antidepressant qualities.
THCA (Δ9-tetrahydrocannabinolic acid)
25.45%
THCA (Δ9-tetrahydrocannabinolic acid)-25.45%
THCA is a cannabis compound with a laundry list of potential mental and physical health benefits. THCA is the non-psychoactive precursor to THC, the most famous cannabinoid of all. While THC is responsible for the psychoactive "high" that so many of us enjoy, THCA has shown great promise as an anti-inflammatory, neuroprotectant and anti-emetic for appetite loss and treatment of nausea. THCA is found in its highest levels in living or freshly harvested cannabis samples. For this reason some users choose to juice fresh cannabis leaves and flowers to get as much THCA as possible.
About the brand :
Root & Bloom
Root & Bloom is a Massachusetts cannabis cultivation, extraction & manufacturing company laser-focused on creating the best products and experiences–for everyone. They're a friendly (but competitive!) group who enjoys what they do. Their expertise and perspective help us create solutions that go far beyond just a good idea. With a head for innovation, a heart for sustainability, and feet firmly planted in their home state, Root & Bloom are here to ignite the industry.