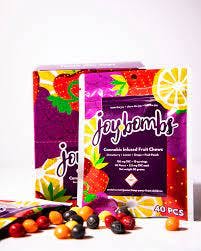 Brand: Root & Bloom | Joyibles
Joy Bombs - Tropical Haze | Candy Coated Fruit Chews (2.5mg) | 100mg
Take your taste buds on a vacation! These bombs are perfect to mix and match for a smoothie-like snacking experience! Flavors - Passion Fruit, Mango, Strawberry Banana, and Pina Colada Joy Bombs Candy-Coated Fruit Chews are precisely dosed with 2.5mg THC in each bite-sized piece, so you can micro-dose for days or nom the whole pouch for a 100mg adventure! Perfect for sharing, Joy Bombs' signature sugary shell means they'll melt in your mind, but not in your car or pocket!
Effects
Calm
Happy
Relaxed
Energetic
View Product Testing Data
CBG (Cannabigerol)
3
CBG (Cannabigerol)-3
Cannabinoids are synthesized by Cannabigerolic Acid. CBG is the decarboxylated form of this acid that appears at low levels in most cannabis plants. Because its properties are beneficial to multiple parts of the endocannabinoid system, CBG has a wide range of therapeutic uses. It is non-psychotropic and can provide analgesic and antidepressant qualities.