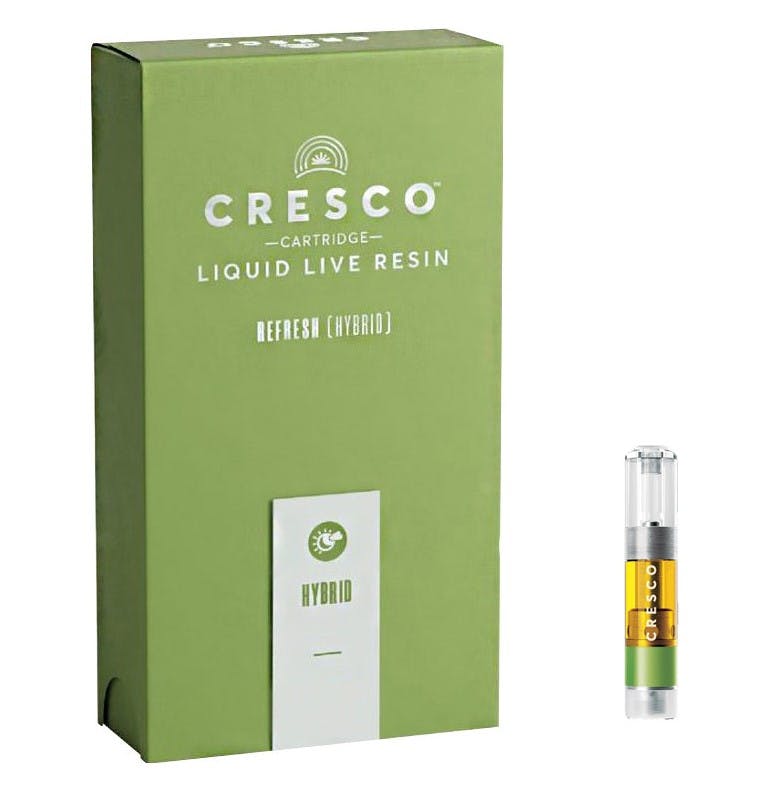 Brand: Cresco
GG4 - Liquid Live Resin | Vape Cart | 1g
GG #4 is a potent indica strain that delivers heavy-handed euphoria and relaxation. Its chunky, resin-covered buds fill the room with pungent earthy and sour aromas. Ideal for pain relief, this strain has a soft onset with strong physical relaxing effects. -- Terpenes: Caryophyllene, Nerolidol Flavor: Earthy, Sour Reported Effects: Relaxed, Happy -- Our Liquid Live Resin is sourced from a single cannabis strain. Nothing added. Nothing taken away. We capture the original full-spectrum effects of fresh flower in the convenience of a cartridge. Compatible with all 510 thread batteries. -- Rest products are derived from indica strains, which are associated with calm and relaxation. Our Rest offerings pair well with quality time, evening wind-downs, and restorative self-care. Onset: 1-5 minutes Duration: 4 hours or longer Compatible Battery: 510 Marijuana Vaporizer Devices have been tested for Vitamin E Acetate and other contaminants, with no adverse findings. WARNING: Vaporizer Devices may contain ingredients harmful to health when inhaled. Consumers shall have access to the test results of Marijuana Vaporizer Devices including copies of any Certificate of Analysis provided by the device's manufacturer.
Effects
Happy
Relaxed
Sleepy
View Product Testing Data
CBG (Cannabigerol)
0.75%
CBG (Cannabigerol)-0.75%
Cannabinoids are synthesized by Cannabigerolic Acid. CBG is the decarboxylated form of this acid that appears at low levels in most cannabis plants. Because its properties are beneficial to multiple parts of the endocannabinoid system, CBG has a wide range of therapeutic uses. It is non-psychotropic and can provide analgesic and antidepressant qualities.
CBN (Cannabinol)
0.63%
CBN (Cannabinol)-0.63%
CBN is a cannabinoid that is created during the breakdown of THC by UV light and exposure to oxygen. This breakdown usually begins during the drying and curing process. CBN is most commonly found in older or improperly stored cannabis samples. This compound is mildly psychoactive and is best known for its sedative effects. Strains and products with high concentrations of CBN can be a great choice for users looking to utilize cannabis products to ease restlessness and promote healthy sleep.
About the brand :
Cresco
Growing consistent premium cannabis for flower, liquid live resin cartridges, and live solid concentrates. Three different types of strains — Rise, sativas for energy and creativity, Refresh, hybrids for clarity and balance, and Rest, indicas for calm and relaxation — so you can be at your everyday best. Find products at a dispensary near you.nationwide, and their portfolio continues to evolve. With this in mind, Cresco delivers consistent quality, experience, and availability in a portfolio of flower, live concentrates, and liquid live resin. In a world where you can't find the same thing twice, Cresco delivers an excellent experience you can rely on.