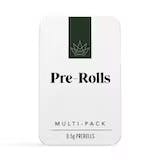 Brand: AMP
Durban Poison | Pre Roll Pack | 2.5g
This pure sativa originates from the South African port city of Durban. It has gained popularity worldwide for its sweet smell and energetic, uplifting effects. Durban Poison is the perfect strain to help you stay productive through a busy day, when exploring the outdoors, or to lend a spark of creativity. Growers and concentrate enthusiasts will both enjoy the over-sized resin glands which make this strain a quality choice for concentrate extraction. The buds are round and chunky, and leave a thick coating of trichomes on almost all areas of the plant.
Effects
Energetic
Happy
Creative
Focused
Inspired
View Product Testing Data
THCA (Δ9-tetrahydrocannabinolic acid)
21.95%
THCA (Δ9-tetrahydrocannabinolic acid)-21.95%
THCA is a cannabis compound with a laundry list of potential mental and physical health benefits. THCA is the non-psychoactive precursor to THC, the most famous cannabinoid of all. While THC is responsible for the psychoactive "high" that so many of us enjoy, THCA has shown great promise as an anti-inflammatory, neuroprotectant and anti-emetic for appetite loss and treatment of nausea. THCA is found in its highest levels in living or freshly harvested cannabis samples. For this reason some users choose to juice fresh cannabis leaves and flowers to get as much THCA as possible.