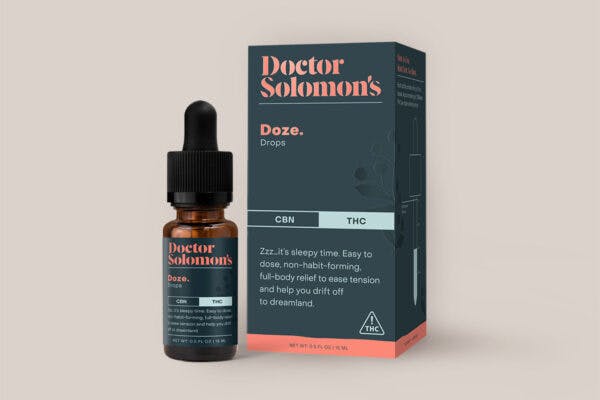 Brand: GTI | Dr. Solomon's
Doze CBN Rich | Tincture | 50mg THC : 50mg CBN
Zzz...it's sleepy time. Ease tension and help you drift off to dreamland. Dr. Solomon's infuses flower in coconut oil, selected for its established benefits of easy dosing and absorption in the body. Lemon and orange essential oils are added to help round out the cannabinoid and terpene flavor profiles and provide a wide range of complementary benefits. Other Cannabinoids: THC8, CBN Onset: 30-60 minutes Duration: 1-6 hours For best results, drop and hold liquid under the tongue for at least 30 seconds before swallowing. Avoid eating or drinking for a few minutes after consuming to improve sublingual absorption. Drops can also be infused in food and drinks, but onset of full effects may take longer.
Effects
Calm
Happy
Relaxed
Sleepy
View Product Testing Data
Para Isopropyltouluene
0mg
Para Isopropyltouluene
0mg
Para Isopropyltouluene is also known as Para-Cymene, and commonly referred to as p-Cymene. p-Cymene is a monoterpene compound with a sweet citrus aroma. It is found in the essential oils of many plants including thyme, grapefruit, oregano, and cannabis. Para-Cymene has shown great promise as an anti-fungal and can be found in many different topical applications.
Aromas
Sweet
Citrus
Potential Health Benefits
Anti-fungal
Anti-oxidant
Cancer Fighting
Pain Relief
CBG (Cannabigerol)
3.99
CBG (Cannabigerol)-3.99
Cannabinoids are synthesized by Cannabigerolic Acid. CBG is the decarboxylated form of this acid that appears at low levels in most cannabis plants. Because its properties are beneficial to multiple parts of the endocannabinoid system, CBG has a wide range of therapeutic uses. It is non-psychotropic and can provide analgesic and antidepressant qualities.
CBN (Cannabinol)
53.89
CBN (Cannabinol)-53.89
CBN is a cannabinoid that is created during the breakdown of THC by UV light and exposure to oxygen. This breakdown usually begins during the drying and curing process. CBN is most commonly found in older or improperly stored cannabis samples. This compound is mildly psychoactive and is best known for its sedative effects. Strains and products with high concentrations of CBN can be a great choice for users looking to utilize cannabis products to ease restlessness and promote healthy sleep.
"TAC" - Total Active Cannabinoids
126.36
"TAC" - Total Active Cannabinoids-126.36
Total active cannabinoids represent the total amount of active cannabinoids at the time of lab testing. This total of active cannabinoids considers all of the active compounds that the product holds.
THC-D8 (Delta 8-tetrahydrocannabinol)
16.01
THC-D8 (Delta 8-tetrahydrocannabinol)-16.01
Delta-8 THC is a cannabinoid with a similar structure to better known Delta-9 THC. While similar to Delta-9 THC in structure, Delta-8 THC is more often extracted from industrial hemp rather than medical grade cannabis. The effects of Delta-8 THC are also similar to that of Delta-9 THC, but much less potent. More research is needed to understand the additional effects of Delta-8 THC and what uses it might have for treating patients.
THC-D9 (Delta 9–tetrahydrocannabinol)
52.02
THC-D9 (Delta 9–tetrahydrocannabinol)-52.02
Delta 9 THC is the primary compound found in the resinous glands of a cannabis plant, and is directly responsible for psychoactive effects. It mirrors the body's naturally occurring cannabinoids and attaches to these receptors to alter and enhance sensory perception. THC can create a feeling of euphoria by enhancing dopamine levels in the brain. The amount of THC in a cannabis product can vary widely based on the method of consumption and the strain at the source of that product. The high that is produced is often enhanced by the "entourage effect" which is a combination of multiple cannabinoids in conjunction with various terpenes and individual body chemistry.