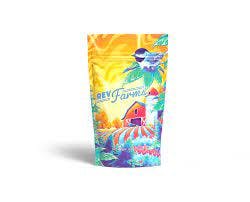 Brand: Rev Clinics | Rev Farms
Cuban Linx | Flower | 3.5g
Genetics: TK Skunk x Tigerian Strains | Strain Type: Sativa Dominant Hybrid (60S/40I) Cuban Linx is a slightly sativa dominant hybrid strain created through crossing the iconic TK Skunk X Tigerian strains. One taste of this gorgeous lynx and you'll be begging for more. Cuban Linx packs a sweet and fruity apricot flavor with touches of sour, citrusy lemon and a hint of spicy diesel. The aroma is very similar, with a fruity apricot overtone accented by sour lemon and spicy diesel that intensifies the more that you toke. The Cuban Linx high will settle in as soon as you exhale, slamming into your brain with a boost of energy and motivation. You'll feel mentally stimulated and creative, ready to jump on anything on your to-do list and really get to work. An energizing body high accompanies this heady boost, helping you to get off of the couch and get moving. Cuban Linx is often chosen to treat a variety of conditions including depression, chronic stress or anxiety, mood swings and nausea or appetite loss.
Effects
Calm
Happy
Relaxed
Energetic
View Product Testing Data
CBDA (Cannabidiolic acid)
0.1%
CBDA (Cannabidiolic acid)-0.1%
CBDA is a derivative of CBGA and the precursor to the well known cannabinoid CBD. Over the last decade scientists have found that CBDA has a very similar chemical structure to that of nonsteroidal anti-inflammatory drugs (NSAIDs) and thus has shown promise in treating pain due to inflammation by inhibiting COX-2 receptors in the brain that register pain. CBDA has also been shown to help regulate the over release of serotonin that causes severe nausea and vomiting in patients receiving chemotherapy, and while more thorough research is needed these results are very promising.
CBG (Cannabigerol)
0.13%
CBG (Cannabigerol)-0.13%
Cannabinoids are synthesized by Cannabigerolic Acid. CBG is the decarboxylated form of this acid that appears at low levels in most cannabis plants. Because its properties are beneficial to multiple parts of the endocannabinoid system, CBG has a wide range of therapeutic uses. It is non-psychotropic and can provide analgesic and antidepressant qualities.
THCA (Δ9-tetrahydrocannabinolic acid)
27.4%
THCA (Δ9-tetrahydrocannabinolic acid)-27.4%
THCA is a cannabis compound with a laundry list of potential mental and physical health benefits. THCA is the non-psychoactive precursor to THC, the most famous cannabinoid of all. While THC is responsible for the psychoactive "high" that so many of us enjoy, THCA has shown great promise as an anti-inflammatory, neuroprotectant and anti-emetic for appetite loss and treatment of nausea. THCA is found in its highest levels in living or freshly harvested cannabis samples. For this reason some users choose to juice fresh cannabis leaves and flowers to get as much THCA as possible.
"TAC" - Total Active Cannabinoids
28.41%
"TAC" - Total Active Cannabinoids-28.41%
Total active cannabinoids represent the total amount of active cannabinoids at the time of lab testing. This total of active cannabinoids considers all of the active compounds that the product holds.