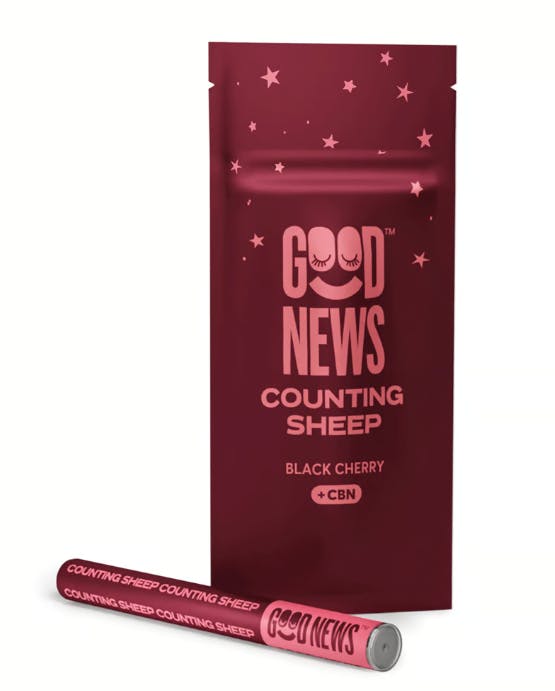 Brand: Cresco | Good News
Counting Sheep | Disposable Vape Pen | .5g
With CBN Our 300mg disposable vapes are flavorful and ready to use right off the shelf. More discreet than a joint and may have faster-acting affects than edibles, they're the perfect accessory for moments with friends. Sleep tonight. Friends tomorrow. COUNTING SHEEP, cannabis vape for quiet nights. Black Cherry Flavor Marijuana Vaporizer Devices have been tested for Vitamin E Acetate and other contaminants, with no adverse findings. WARNING: Vaporizer Devices may contain ingredients harmful to health when inhaled. Consumers shall have access to the test results of Marijuana Vaporizer Devices including copies of any Certificate of Analysis provided by the device's manufacturer.
Effects
Relaxed
Sleepy
Happy
View Product Testing Data
CBD (Cannabidiol)
0.2%
CBD (Cannabidiol)-0.2%
CBD is the second most prevalent cannabinoid and is primarily produced by hemp plants and at lower amounts in cannabis. It works as a phytocannabinoid, or binding agent, that adheres to an individual's endocannabinoid system. Cannabidiol has soared in popularity due to its lack of psychoactive effects. Most users seek CBD for its medicinal properties since it was the first cannabinoid to be approved by the FDA. Its healing properties include an ability to help you relax, reduce irritability and ease restlessness.
CBG (Cannabigerol)
3.79%
CBG (Cannabigerol)-3.79%
Cannabinoids are synthesized by Cannabigerolic Acid. CBG is the decarboxylated form of this acid that appears at low levels in most cannabis plants. Because its properties are beneficial to multiple parts of the endocannabinoid system, CBG has a wide range of therapeutic uses. It is non-psychotropic and can provide analgesic and antidepressant qualities.
CBN (Cannabinol)
15.8%
CBN (Cannabinol)-15.8%
CBN is a cannabinoid that is created during the breakdown of THC by UV light and exposure to oxygen. This breakdown usually begins during the drying and curing process. CBN is most commonly found in older or improperly stored cannabis samples. This compound is mildly psychoactive and is best known for its sedative effects. Strains and products with high concentrations of CBN can be a great choice for users looking to utilize cannabis products to ease restlessness and promote healthy sleep.