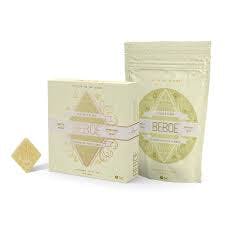 Brand: GTI | Beboe
Cloud 9 - Sparkling Pear 1:1 THC:CBG | Gummies | 100mg THC : 100mg CBG
Like cashmere socks for your soul, these purposefully perfected confections boast a 1:1 ratio of the finest THC and CBG. Bursting with juicy Pear goodness and socially-dosed euphoria, each bite is sure to take your senses to the spa. 20 Gummies per container | 100mg THC * 100mg CBG per container | 5mg THC * 5mg CBG per Gummy Flavor: Sparkling Pear Effect: Artfully blended for bliss 100% Natural // Socially-dosed // True-to-fruit flavor // Contains: coconut 20 pieces, 5mg each Onset: 30-120 minutes Duration: 1-6 hours or more Cannabis infused edibles, evenly dosed are commonly sold in multi-packs, which makes controlling your intake easy and reliable. Because edibles are digested and absorbed by your stomach and liver, the activation is often longer than other consumption methods, taking on average 45 minutes, and sometimes up to 2 hours. It is important to start low and slow when consuming edibles so you don't over do it. Take extra caution to ensure edibles are out of the reach of children.
Effects
Calm
Happy
Relaxed
Energetic
View Product Testing Data
CBG (Cannabigerol)
100.22
CBG (Cannabigerol)-100.22
Cannabinoids are synthesized by Cannabigerolic Acid. CBG is the decarboxylated form of this acid that appears at low levels in most cannabis plants. Because its properties are beneficial to multiple parts of the endocannabinoid system, CBG has a wide range of therapeutic uses. It is non-psychotropic and can provide analgesic and antidepressant qualities.