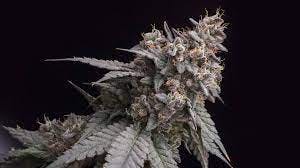 Brand: Root & Bloom
Cherry Pie OG | Flower | 3.5g
Cherry Pie OG is a triple cross (San Fernando OG x Granddaddy Purple x Durban Poison). With its alluring earthy tartness, this strain will have you in just the proper zone to experience the day with comfort. Notable terpenes found within this strain include: Caryophyllene, Myrcene, & Pinene. Looking for an all-purpose, all-day flower for your daily wellness routine? Look no further than Cherry Pie OG — this strain of contested origins is nevertheless ideal for the consumer requiring some soothing, but without all that couch-lock. Its impressive lineage is sure to delight cannabis lovers of all types.
Effects
Calm
Happy
Relaxed
Energetic
View Product Testing Data
THCA (Δ9-tetrahydrocannabinolic acid)
25.59%
THCA (Δ9-tetrahydrocannabinolic acid)-25.59%
THCA is a cannabis compound with a laundry list of potential mental and physical health benefits. THCA is the non-psychoactive precursor to THC, the most famous cannabinoid of all. While THC is responsible for the psychoactive "high" that so many of us enjoy, THCA has shown great promise as an anti-inflammatory, neuroprotectant and anti-emetic for appetite loss and treatment of nausea. THCA is found in its highest levels in living or freshly harvested cannabis samples. For this reason some users choose to juice fresh cannabis leaves and flowers to get as much THCA as possible.
"TAC" - Total Active Cannabinoids
27.24%
"TAC" - Total Active Cannabinoids-27.24%
Total active cannabinoids represent the total amount of active cannabinoids at the time of lab testing. This total of active cannabinoids considers all of the active compounds that the product holds.
About the brand :
Root & Bloom
Root & Bloom is a Massachusetts cannabis cultivation, extraction & manufacturing company laser-focused on creating the best products and experiences–for everyone. They're a friendly (but competitive!) group who enjoys what they do. Their expertise and perspective help us create solutions that go far beyond just a good idea. With a head for innovation, a heart for sustainability, and feet firmly planted in their home state, Root & Bloom are here to ignite the industry.