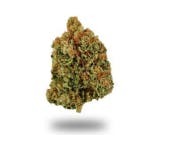 Brand: AMP
Bubba X | Flower | 3.5g
Star Killer x Bubba Kush Bubba X is a one of kind indica dominant strain that is the progeny of two multiple award winning strains Bubba Kush and Starkiller. This cross is brought to you by our in house breeding program and can only be found at AMP. Its highly relaxing effects are powered by its high terpene content that consist of Limonene, Myrcene, Caryophylene and a dash of Eucalyptol. Bubba X's flavor is Earthy nutty with a splash of sweetness. If you are looking for a strain that is a night time friend or your just looking to melt away anxiety than this strain is for you.
Effects
Relaxed
Sleepy
Happy
View Product Testing Data
"TAC" - Total Active Cannabinoids
18.67%
"TAC" - Total Active Cannabinoids-18.67%
Total active cannabinoids represent the total amount of active cannabinoids at the time of lab testing. This total of active cannabinoids considers all of the active compounds that the product holds.
THCA (Δ9-tetrahydrocannabinolic acid)
17.52%
THCA (Δ9-tetrahydrocannabinolic acid)-17.52%
THCA is a cannabis compound with a laundry list of potential mental and physical health benefits. THCA is the non-psychoactive precursor to THC, the most famous cannabinoid of all. While THC is responsible for the psychoactive "high" that so many of us enjoy, THCA has shown great promise as an anti-inflammatory, neuroprotectant and anti-emetic for appetite loss and treatment of nausea. THCA is found in its highest levels in living or freshly harvested cannabis samples. For this reason some users choose to juice fresh cannabis leaves and flowers to get as much THCA as possible.