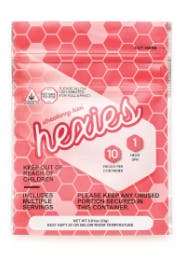 Brand: Cresco | Hexies
Blue Razz | Gummies | 100mg
Hexies are gelatin based pull & dose fruit chews that come in a variety of interesting flavors. Each fruit chew is approximately 5mg of THC and there are 20 servings in each Hexies 20-Pack. Other Cannabinoids: CBC, THCV Onset: 30 -120 minutes Duration: 1-6 hours Consumers often chose these gummies for controlled dosage and ease of use. Gluten Free. Best kept in a cool, dry area below room temperature
Effects
Calm
Happy
Relaxed
Energetic
View Product Testing Data
CBC (Cannabichromene)
1.4
CBC (Cannabichromene)-1.4
CBC is a unique cannabinoid and is best known for its ability to bind to the TRPV1 and TRPA1 receptors in the brain which are responsible for pain perception. Topical applications of products high in CBC have also shown promise for the treatment of osteoarthritis symptoms and in the treatment of skin conditions such as acne.
CBG (Cannabigerol)
4.8
CBG (Cannabigerol)-4.8
Cannabinoids are synthesized by Cannabigerolic Acid. CBG is the decarboxylated form of this acid that appears at low levels in most cannabis plants. Because its properties are beneficial to multiple parts of the endocannabinoid system, CBG has a wide range of therapeutic uses. It is non-psychotropic and can provide analgesic and antidepressant qualities.